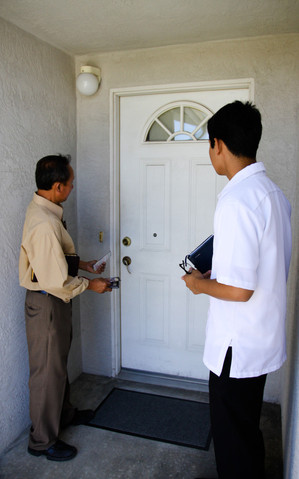 Our church is continually in the process of equipping people for discipleship and other ministry work. By the grace of God, our brothers and sisters, young and old alike, join hands and participate in our Saturday Visitation Ministry.
We feel it is important to carry the love of God to our dear neighbors. We knock on doors, distribute Gospel tracts, visit people, disciple people, witness to the unsaved, share the Scriptures and invite everyone to the Sunday services.
We also look in on members of our congregation who cannot join us for worship. While they cannot be in church with us, we have a commitment to visit and share church fellowship with them.
In Matthew 25:35-36 of God's Holy Word we read,
"For I was an hungred, and ye gave me meat: I was thirsty, and ye gave me drink: I was a stranger, and ye took me in: Naked, and ye clothed me: I was sick, and ye visited me: I was in prison, and ye came unto me."
We need more workers for Christ! Consequently, our goal has been raised from 50 to 70 workers! So, mark your calendars and join us this Saturday.